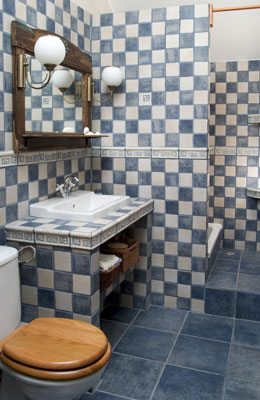 Historically, personal care needs were met by water wells and outhouses. Water for washing or bathing was heated over a fire. But modern plumbing has changed the whole picture. Today's bathroom designs can incorporate convenience and luxury as never before, with plumbed bathroom fixtures, and hot water at the touch of a faucet handle.
The dimensions of a basic bathroom are approximately 5 feet by 8 feet. From there, bathrooms increase in size and convenience, with higher quality fixtures and more storage space. A simple bathroom might only include a basic sink, bathtub, and toilet, but larger bathrooms often include a shower stall as well as a tub. The shower stall can be custom-tiled or a prefab unit with glass doors. A whirlpool tub is a luxury that can replace your regular soaking tub. Pedestal sinks are a popular trend, while a master bath might have one or two sinks set into a countertop on a stylish vanity. Your choice of countertop material can greatly affect the ambience of your bathroom. An elegant marble, granite, or solid surface countertop can transform the appearance of a master bathroom.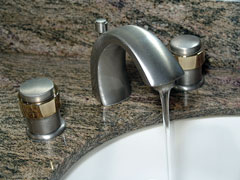 Bathroom faucets are offered in standard chrome finishes as well as a variety of specialty finishes such as brushed nickel or antique brass. Bathroom designers usually choose faucets that complement a bathroom style, whether it is modern or traditional. Styles and finishes for sink, tub, and shower faucets will look best if they match.
Bathrooms in commercial and public buildings typically feature only sinks and toilets, although men's bathrooms often feature urinals as well. Bidets are rarely used in North America, but visitors to certain European and South American countries will find bidets in most bathrooms.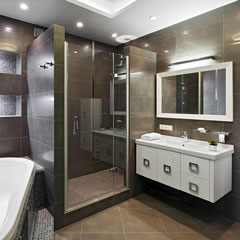 Alphabetized lists of, and links to, bathroom accessory manufacturers and bathroom fixture retailers throughout the United States are available on these manufacturer and retailer directories. Local bathroom construction and remodeling service providers throughout the United States are listed on this extensive bathroom and kitchen directory.
Bathroom-related video resources include water dripping slowly from a faucet, water and soap suds filling a bathtub, and hands being washed with soap and water in a bathroom sink.